A pulsating flow of colored lights brought a futuristic disco touch to the end of the Design Miami / 2021 tent last week. For its annual design commission, luxury car brand Lexus called on local architect Germane Barnes of Studio Barnes to create an installation inspired by the new Lexus LF-Z electric concept car, whose highly anticipated electric design will be released in early 2022. The installation provided a glimpse of the new vehicle in the form of a suspended steel wireframe, a floating line drawing of the design activated with those colorful heartbeats, two lighted arch swings and the first furniture collection from Barnes, inspired by the Art Deco architecture of South Beach. But it also represented a much broader call to action, to which Barnes dedicated his practice and work as a professor at the University of Miami School of Architecture.
There, Barnes leads the Community Housing Identity Lab and, through it, examines how Miami's black residential neighborhoods are affected by the built environment, climate change, and city-wide urban planning. For his Design Miami installation, TO/, he collaborated with a few of his architecture students and Indrit Alushani, the director of the University's Responsive Architecture and Design Lab to further explore this question: How does the future affect us all? And what does it need to protect our most vulnerable neighborhoods? Carbon neutrality, say Barnes and Lexus, is the first step.
Elizabeth Fazzare: Tell me about the immersive aspect of the play.
Germaine Barnes: Lexus approached me with the idea of ​​finding a way to celebrate its new, carbon neutral and forward thinking approach to all of its vehicles. I had the idea of ​​reducing the car to the most essential lines based on the know-how of the original designers, and then incorporating lights into it. We can get that futuristic feel with the car in zero gravity, because it's just the wireframe.
You have these multiple strands of light all pulsing simultaneously while there is a secondary light source above that changes color. It looks like the whole setup changes while you are physically in space.
EF: Stripping it down to the lines also makes it more architectural. It's more like a line drawing or the first step in a design.
FR : It was the goal. You see all these very delicate images of the craftsman designing and they have very smooth lines, but then they become something else. It becomes a steering wheel, the seats, the chassis, the wing. Lexus gave me the creative license to then tear the car apart and bring it back to its bare bones.
EF: Is this the first time that you have also worked with light?
FR : Yes! I'm very lucky to be in a place where other talented people can help me in areas that I don't know much about. I worked with Indrit Alushani, the director of the Responsive Architecture and Design Lab at the University of Miami, which includes lights. I explained my vision to him and he gave me several ways to achieve this goal. And then once we find the exact look we wanted, he's able to manipulate it to make it vibrant.
Everything is based on him because I am not a lighting expert, but I understand how the activity works: designing efficient surfaces to bounce light makes the installation better.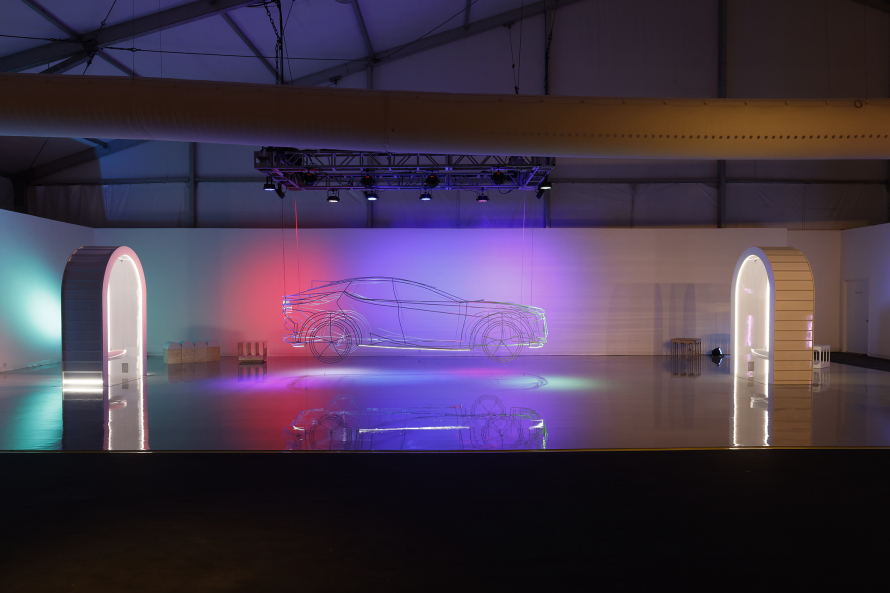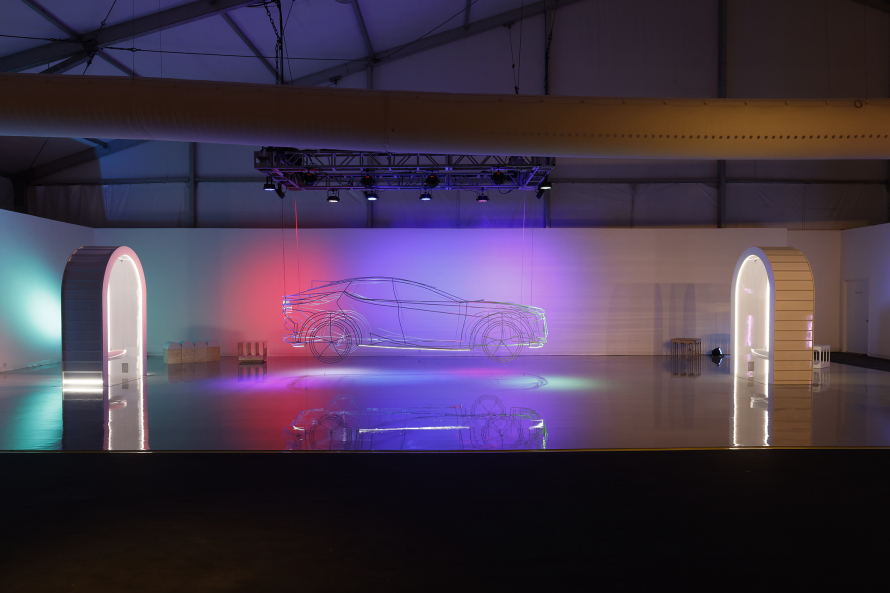 EF: Are the installation color changes something that you program together or is it responsive?
FR : Design Miami / this year's title is Human • Kind. And Lexus has a very human-centric approach. We combine these two to find a way to shrink the globe so that many people who cannot be here physically due to various reasons of covid, pandemic, travel restrictions and we ask: how can we make this project bigger than physical space?
We have partnered with Lexus to create a digital platform that allows people around the world to scan the QR code or go to the website and manipulate the lights inside the physical space. Then every day we change the lights in person to match.
I have an incredible team. I have a few interns, students from the University of Miami, who were also an integral part of the whole process. They are very excited to go through all the submissions and be the judge and jury to choose the winners.
EF: Tell me about the inclusion of your University of Miami intern students. Why was this important?
FR : When I was talking to the Lexus brand, the most important thing was the idea of, how do you project the design in the future? How do we see the future design? How do we look at future designers?
So wait a minute, do you want some future designers? I have them, they're 19 or 20, and they're literally my students. Lexus clearly only asked for me, but why not pay to help someone else? When they gave me the opportunity to collaborate instead of totally keeping Studio Barnes, I contacted the RAD Lab to manage the technological aspects. I contacted my students to ask them if they wanted to be part of the project. In the end, I think you have a more coherent and solid proposal.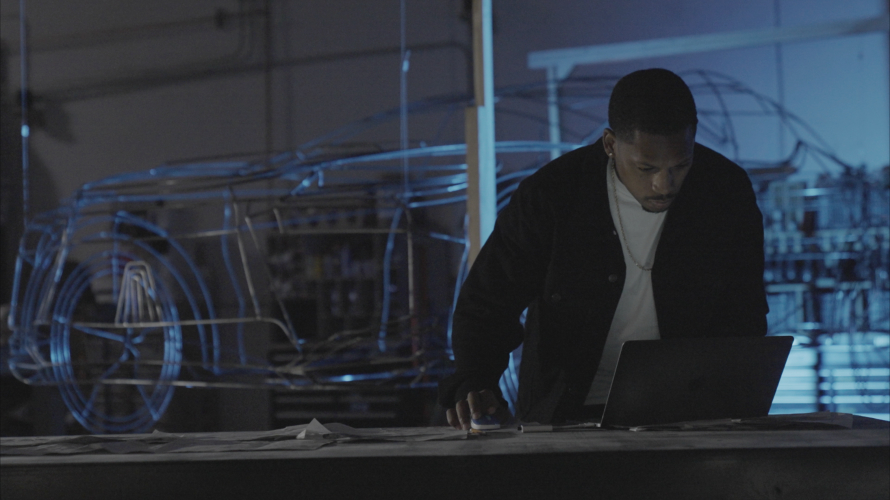 EF: I know having that aspect of mentoring in your practice is really important.
FR : I was very lucky to have people in my life who opened doors for me. None of these things come in a vacuum. You have to be nice to people. I think the reason I get such great results with the things I create is because the people who are a part of the process are celebrated for their participation in the process.
EF: I think it's a big problem with the architecture and the problem with the starch model: there is usually one person celebrated and it is claimed that they have all these skills and that they have done everything. by herself. And it's never really that
FR : No one has the capacity to do it all. One of the most important people who impacts your career is usually your teacher first. You spend a lot of time with them while you are doing things. This is what you have access to. So when you have someone who is open and kind and willing to allow you to be a part of their process, you have a one-on-one mentor who helps you overcome many architectural hurdles, especially economic ones.
Jennifer Bonner was my mentor, who is a star in her own right. I am able to take the same opportunity and say to my assistants, "Hey, you put that in your wallet, and you have every right to say you were in it."
EF: It's exciting to support the architects in Miami as well in something different from the towers.
FR : We don't have enough cultural institutions to somehow counter the typical Miami high-rise apartment building with blue glass windows. Something different is always a good alternative to the status quo. My installation is sort of indicative of this as it also references Miami's art deco history with some of those geometries that are incorporated into the furnishings: arches and concave concrete bases. And the vernacular of the wood is also very revealing of South Florida. Wood plus concrete is our tropical modernism.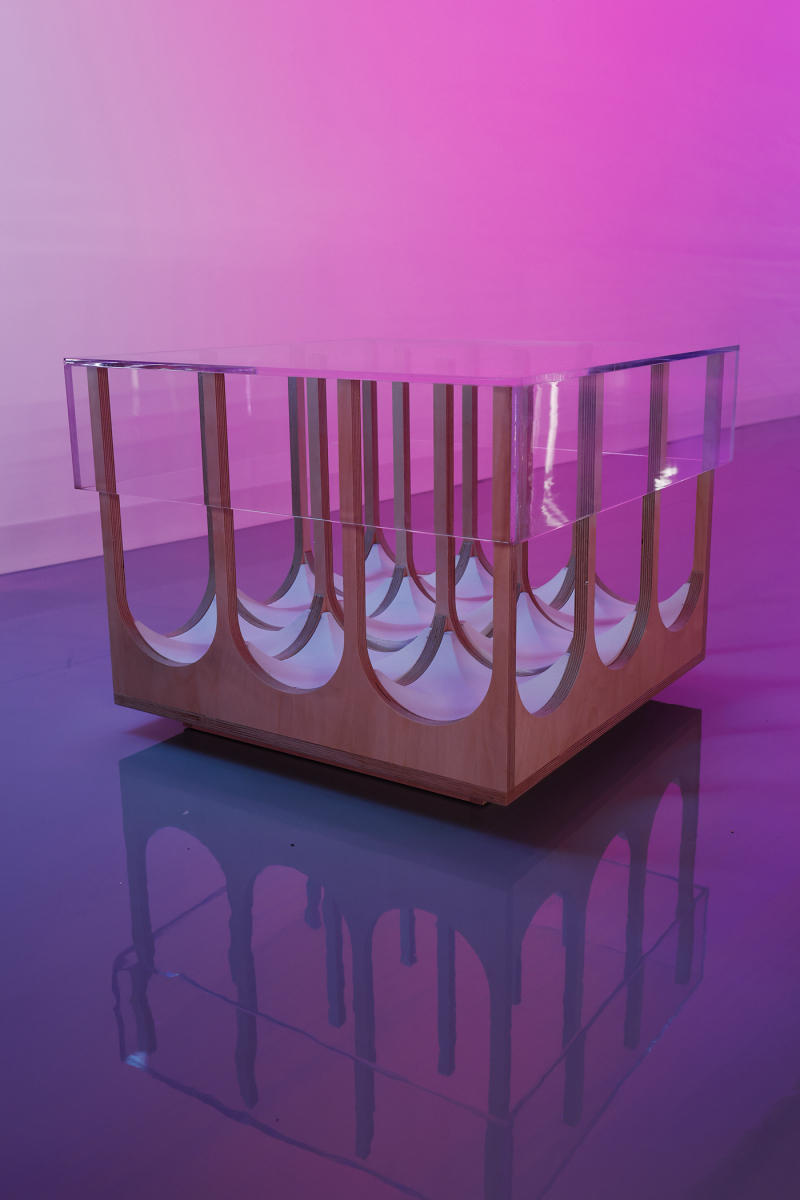 EF: It also makes a community space. Being allowed to sit on the furniture and touch the facility helps break the elitism of the location and the luxury brand you work with. After all, the future is for everyone.
FR : Absoutely. Lexus has been very open to creating a facility like this, and they were very excited when I told them that I wanted users to engage with it. The title of the installation explores the idea of ​​getting things done rather than being static, of understanding the world, how it is resilient. Our ability to live in this world may not be resilient, so we need to be aware of the building materials we use, climatic interactions and that sort of thing.
EF: Being "active" and aware of climate change is particularly important. He is at the forefront of everything and should be at the forefront of everyone's thoughts.
FR : Much of our curriculum at the University of Miami School of Architecture is based on climate resilience, as we understand the critical nature of life in a place vulnerable to water. Much of the work I do with my research lab is based on black communities vulnerable to water. With Lexus giving me the green light, it's a fortuitous proposition because you're talking about a human-centered approach and my practice is about identity; you talk about carbon neutrality and my practice is to make sure that the climate does not affect vulnerable neighborhoods. All of these things go together perfectly.
EF: Have you seen your students also come up with their own projects on these subjects?
FR : All the time. Because they were born and raised in Miami, they only know about sea level rise. They only know about flooding. They only know, unfortunately, things like Hurricane Irma, Hurricane Andrew. But when they get to design things and use design as a tool to combat some of those things, I think that's a positive development.